Structured cabling, the unsung hero of modern business, quietly empowers your network in ways you might not have imagined. It's the backbone of your communications, the connective tissue that effortlessly links your devices to the vast expanse of the internet. Beyond its unassuming appearance, structured cabling holds the potential to transform your business.
Picture a world where your computers, printers, and servers operate harmoniously, applications run at lightning speed, and your data enjoys fortress-like security. This is the promise of structured cabling. Keep reading to learn how a structured cabling system can help a business like yours.
Why Is Structured Cabling Important for Businesses?
As your business grows, so do your IT needs. A structured data cabling system can help you scale your network to meet growing requirements. It can also help you avoid costly downtime and productivity losses due to network problems.
Here are the top five benefits of cabling solutions.
Improved performance: Structured cabling systems support high-speed data transmission, which can improve your network performance and speed up your applications.
Increased reliability: Structured cabling systems are built to last and withstand daily wear and tear. This can reduce downtime and improve the reliability of your network.
Enhanced security: Structured cabling systems can help improve your network's security by isolating different devices and networks from each other. This can help to prevent unauthorized access and data breaches.
Expanded Scalability: Structured cabling systems are scalable, so you can easily add new devices and networks to your system as your organization grows.
Better Flexibility: Structured cabling systems are flexible and can adapt to meet your specific business needs.
Are you ready to reap the benefits of structured cabling services?
Gray & Creech Office Solutions offers FREE Business Technology Assessments!
Contact Us Today to Schedule Yours!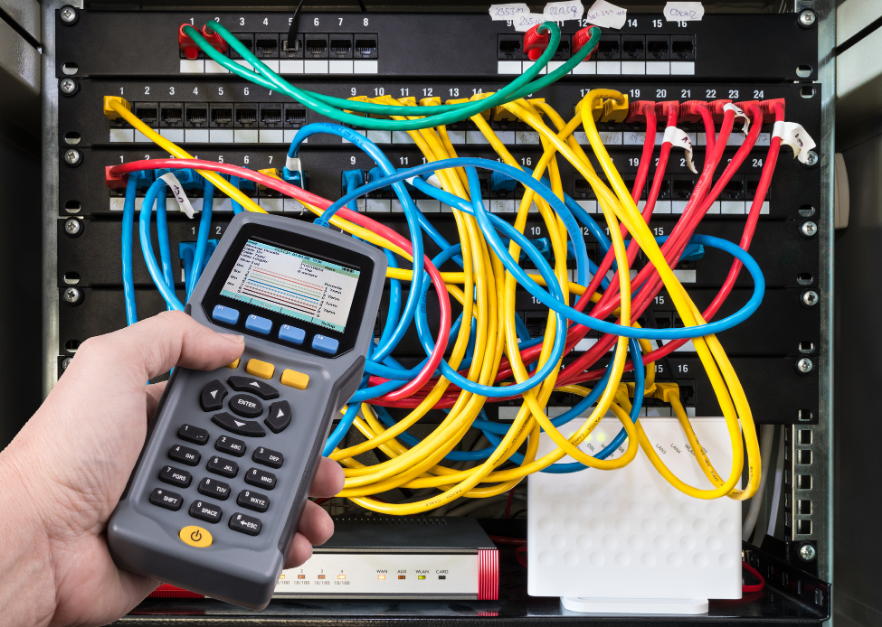 What Are the Different Types of Cabling?
There are two main types of structured cabling: copper and fiber optic.
Copper cabling: Copper cabling is the most common type of structured cabling. It is relatively inexpensive and easy to install. However, it has a limited bandwidth and is less durable than fiber optic cabling.
Fiber optic cabling: Fiber optic cabling is more expensive than copper cabling but offers much higher bandwidth and is more durable. It's a good choice for businesses that need high-speed data transmission and network reliability.
Structured Cabling Standards Benefit Your Business
Structured cabling standards define how to design, install, and test structured cabling systems. These standards ensure that structured cabling systems are reliable, scalable, and secure.
ANSI/TIA-568-C.2 is the US standard for structured cabling. It is the most widely used structured cabling standard in the world and covers a wide range of features.
Cable types and specifications
Connector types and specifications
Wiring topologies
Installation practices
Testing procedures
It's important to follow structured network cabling standards for many reasons.
It ensures reliability.
It makes it easier to expand and upgrade your system in the future.
It improves your network security.
This is why it's essential to work with an experienced, trustworthy IT solutions partner when it's time to have your structured cabling installed or upgraded.
G&C Office Solutions Is Your Trusted Structured Cabling Contractor in North Carolina
Are you ready to improve your network performance, reliability, and security with a structured cabling network?
Gray & Creech Office Solutions is a leading provider of IT solutions for businesses in North Carolina. We offer a wide range of structured cabling services, including design, installation, and testing. Our team of experienced and certified technicians can help you choose the right structured cabling system for your business and install it to the highest standards.
Gray & Creech Offers IT and Security Solutions to Fit Your Business!