A great image solutions provider can be the key to your business operations running more efficiently. The right managed print solutions company can increase your productivity, streamline your business, and even save you money in the long run.
But in today's digital world, your search for an image solutions provider will yield many results. As you sift through companies, it's normal to become overwhelmed or confused, as you may not know what qualities to look for in a company or what sets one business apart from the other.
To make your search easier, we've highlighted five standards to look for when choosing a company to manage your imaging and printing needs.
These are the five things to consider when searching for a great image solutions company:
Location
Achievements
Reviews
Stats
Organization
Not sure how to choose an image solutions provider?
We can help you make the best decision.
 Schedule Your Appointment Today!
A Great Image Solutions Provider…
Is Near You
The first thing to consider is how close the office solutions provider is to your operations. When your employees face a problem — such as a jammed printer — you need someone who can service this quickly, so there's limited downtime.
In contrast, many managed print solution providers only have a central sales office. This means they may not readily have the parts, supplies, and equipment you may need during emergencies. As a result, you could wait days for a part to ship to you, putting a dent in your vital operations.
Gray & Creech has two main service hubs: one in Greensboro, NC, and another in Raleigh, NC. This allows us to service a wide coverage area, including Winston-Salem, High Point, Chapel Hill, Cary, and Durham, NC in a matter of hours.
Has Accolades
Great service doesn't go unrecognized. When choosing a service provider, look for one that has been noticed for its achievements.
Gray & Creech is a AAA Platinum Service Provider. That means all of our technicians are trained and certified in Sharp office copiers and printers. Only 19 companies hold this designation nationwide! Sharp has also recognized our quality of dealership and exceptional customer service with the Sharp Hyakuman Kai Elite Sharp Dealer Award.
These special designations also indicate we use OEM (Original Equipment Manufacturer) Sharp parts and supplies and never cut corners with our customers.
Has Good Reviews
Recognition doesn't stop at the industry level. Customers also praise good service when they experience it. Customer reviews are a major component of what makes a great print solutions company, as positive reviews are one sign of good customer service.
Ideally, a company should have at least 20 reviews. And, you guessed it, they should mostly be four- and five-star reviews.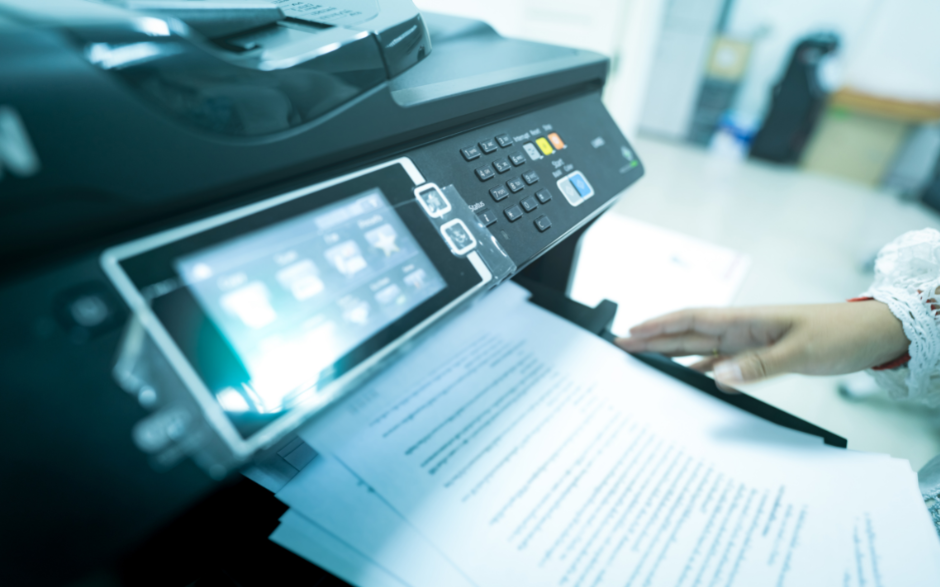 Has Good Stats
All great service providers measure their performance.  This essential practice helps businesses keep up with industry standards and deliver according to customer expectations.
At Gray & Creech, we measure our performance in various service areas. One of them is our average response time, just 3.1 hours in 2021! We also measure how often we fix machines on a first call—91 percent in 2021! And our third most critical benchmark is our Net Promoter Score (NPS), which measures how likely our customers are to recommend us to others (done through blind surveys). In 2021, our NPS was 96.47 percent!
If a company's stats aren't displayed on its website, be sure to ask. They should be ready and eager to show you.
Is Organized
A clean business runs, well, a clean business. Take note of how well an image solutions provider maintains its business — including its office, showroom, warehouse, and even its employees.
A messy, unorganized business reflects its operations. Before deciding on a provider, try to tour the office and any other locations where customers are allowed.
Bottom line: you should choose the best image solutions provider because your business deserves the best. You don't want a company that does the bare minimum. You need a service provider that understands your unique needs and provides the right, personalized solutions — and will be there for you when you need them.
Find a Top Office Solutions Provider Near You
When you need managed print solutions near you, turn to Gray & Creech. We've been a leading provider of office solutions for 100+ years! Local businesses in Greensboro, Raleigh, and beyond rely on us for managed print solutions, including the latest copiers and printers.
YES, I'm Ready for My Consultation!