Three Benefits of Choosing a Local Copier Company
Small businesses gain several advantages by using local copier dealers over national suppliers.
Lower prices
Faster service response times
Higher level of customer support
These are factors you'll want to consider when choosing a copier dealer, as service response times and customer support have a high impact on your business operations.
Local dealers who are certified by the OEM manufacturer stores near you provide better access to the services you need to run your business. On the other hand, national providers are burdened with too many customers and often lack the personalized support experience that local businesses require. It's just a simple fact that a locally owned dealership can react much faster to your businesses request than a large national dealer.
In addition, when you work with a NC copier dealer, you reinvest in your community, help build the economy, and support local jobs. So, choosing a local copier dealer makes a difference to both your business and the community.
With that in mind, here are three good reasons to choose a local copier provider.
Looking for a copier dealer near you?

Contact Gray & Creech Office Solutions to learn how we can help!
Lower Pricing
Local copier companies are cost effective. Small-to-medium-sized businesses often prefer local copier companies because of their proximity. And they can also take advantage of a better pricing structure. Local copier dealerships stores don't have the overhead expenses that national dealers incur. This results in lower pricing on copiers and other services, including delivery and repairs.
Maintenance expenses are one of the main things to consider when purchasing a copier, as you may need minor repairs throughout the life of your equipment. Copier providers local to a region usually charge less than a national dealer. Ultimately, this saves your business money, which you can appropriate elsewhere in your organization.
Faster Response Times
Downed equipment costs money. How quickly your copier provider resolves your maintenance requests is of the utmost importance. When copiers are essential to running your business, you don't have time for downed equipment.
Local copier companies have technicians in the region who are ready to repair copier issues. National dealers may take days or weeks to respond to your service requests. They may even prompt you to troubleshoot your own copier problems. You'll end up with frustrated employees (and possibly frustrated customers), wasted time, and lost revenue.
At Gray & Creech Office Solutions, we know how critical it is to get your office equipment working again, so your business can resume as usual.

Our average response time is just 3.1 hours!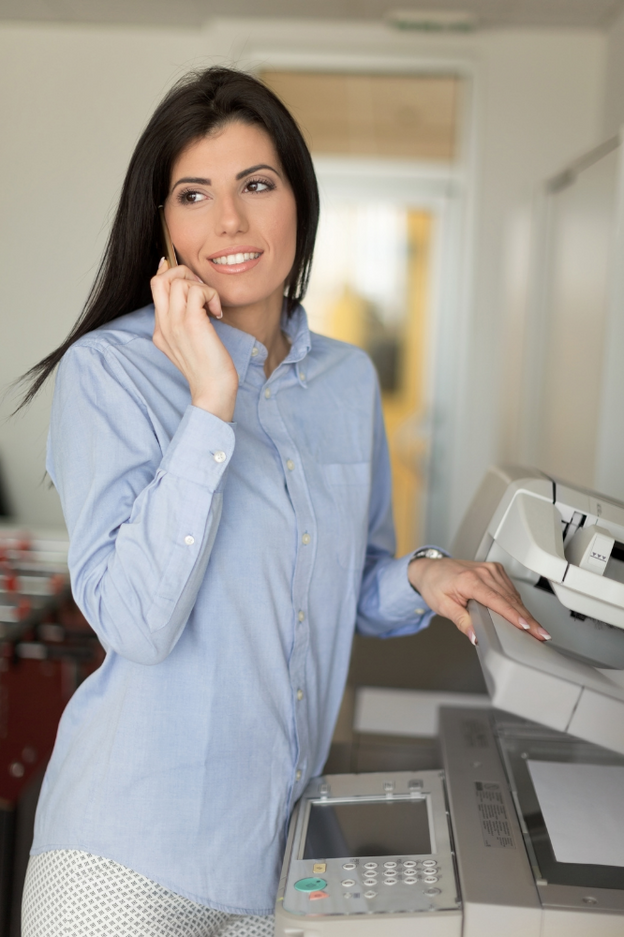 Personalized Support
Get the support you need when you need it. One of the drawbacks of dealing with a national copier dealer is lower-quality or impersonal customer service. Often, national copier dealers direct customers to an 800 number and put them through a tiered support system to reach an associate. The last thing you want is to spend valuable time trying to wrangle the support you need.
A local copier dealer is more accessible. When you can meet face to face, it leads to a closer and better relationship between your business and your copier provider. They'll often have a local phone number — and even an office you can visit.
In addition to better customer support, a copier dealer near you can get to know your business on a personal level. They'll understand your company needs and provide support tailored to your organization. Ultimately, building a trusting relationship can lead to faster service and more empathy from your copier provider—two factors that will make a positive impact on your operations.
Work with a NC Copier Dealer Near You
From one local business to another, Gray and Creech Office Solutions has helped businesses in the Triad region streamline their operations to maximize both efficiency and revenue. This has been our mission since 1922!
Plus, we offer state-of-the-art copiers to suit your specific needs:
Sharp Copiers
Xerox Copiers
Brother Copiers
Lexmark Copiers
Plus, other equipment too!
When you're ready to work with a local copier provider, we're here to help.
Contact Gray & Creech Office Solutions to get started today!